Immunocan
PREBIOTIC AND PROBIOTIC NUTRITIONAL SUPPLEMENT FOR DOGS AND CATS
(boosts the immune system and promotes gut health)
IMMUNOCAN is a carefully balanced combination of prebiotics and probiotics (a synbiotic), specially formulated to support the functioning of the immune system, of the gastrointestinal tract and the general health of your dog or cat.
1,3-1,6 beta-D-glucan is a unique, naturally-occurring polysaccharide, and is considered nature's most powerful activator and stimulator of the immune system. It is derived from the cell walls of brewers' yeast (100% Saccharomyces cerevisiae). 1,3-1,6 beta-D-glucan activates the key cells (macrophages) of the body's immune system, binding to the receptors of the macrophages and allowing them to act more rapidly to recognise and destroy the harmful pathogenic micro-organisms that cause illness (bacteria, viruses, fungi etc.). It also positively impacts the numbers of these cells, promoting their proliferation and the production of a range of additional substances, which results in the rapid release of new immunocytes into the bloodstream and organs of the dog or cat.
Mannan-oligosaccharide (MOS) prebiotic promotes the growth and survival of beneficial bacteria in the digestive tract. MOS blocks and immobilises pathogenic bacteria (such as E. coli and Salmonella) and toxins by binding them to itself thus preventing them from proliferating and causing harm.
Inulin (FOS) prebiotic serves as food for beneficial bacteria in the digestive tract. Inulin (FOS) comprises fibres that are soluble in the gut when acted on by the enzymes produced by beneficial bacteria in that environment, stimulating the growth of these bacteria (Lactobacillus), whilst at the same time inhibiting the growth of harmful bacteria.
IMMUNOCAN contains two strains of beneficial probiotic bacteria, (Bacillus licheniformis and Bacillus subtilis), increasing their population in the digestive tract, maintaining balance and normalising gut microflora.
Contains, per tablet, at time of packing:

| | |
| --- | --- |
| (1.3)-(1.6)-β-D-glucan | 100 mg |
| Mannan oligosaccharides (MOS) | 80 mg |
| Inulin (FOS) | 90 mg |
| Bacillus licheniformis (DSM 5749) | 250 millions CFU |
| Bacillus subtilis (DSM 5750) | 250 millions CFU |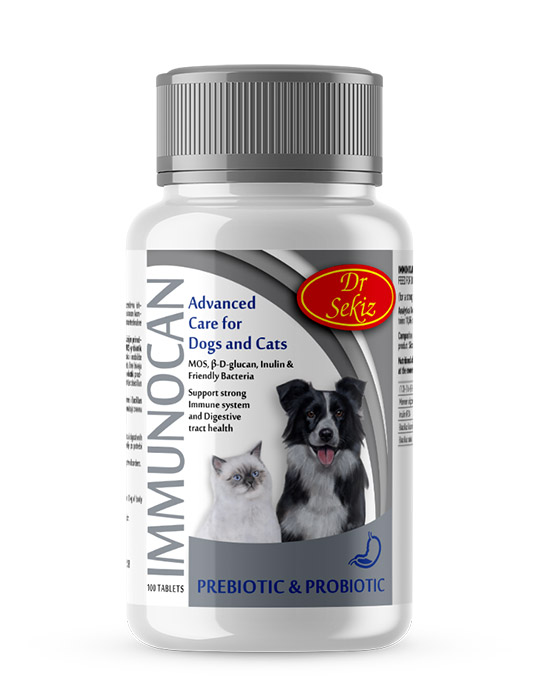 Produced in accordance with manufacturer's specification no. 0105-16. Veterinary export control number: RS-34-22. Quality controlled by the Scientific Veterinary Institute, Novi Sad.
Other ingredients: Brewers' yeast, cellulose, silicon dioxide, magnesium stearate.
This product is not for human consumption. Keep out of the reach of children.
Use: In dogs and cats taking antibiotics; in cases of compromised immunity or digestive disorders.
For best results use IMMUNOCAN for 3-4 weeks, and extend as necessary.
Regular daily recommended dose:
For cats: ½-1 tablet before meals.
For dogs: 1 tablet per 10 kg of body weight before meals.
1 IMMUNOCAN tablet = 1,000 mg
Keep in a dry dark place. Best used within 24 months (for best before date see package).
100 TABLETS, Net weight: 100 g