Connecten
SUPPLEMENT FOR PROTECTION AND HEALING JOYS AND CARTILAGE
(tendons, ligaments, connective tissue and soft tissue)
CONNECTEN has been designed to leverage the positive effects of glucosamine on the health of joints and connective tissue in dogs of all ages and sizes, especially large breeds. Glucosamine assists in the formation and regeneration of joint cartilage and increases the mobility and activity of your dog. Chondroitin protects cartilage, improving its elasticity, lubricates the joints and has an anti-inflammatory effect, reducing pain and swelling. MSM helps strengthen the connective tissue of the joints. MSM is a natural, biologically active source of sulphur which is essential for the growth of cartilage. MSM acts synergistically, contributing to the better incorporation of glucosamine and chondroitin. MSM also has an anti-inflammatory effect. Hyaluronic acid helps maintain the viscosity of joint fluid. Vitamin C is a powerful antioxidant, important for the development of bones and cartilage. Vitamin E is also a powerful antioxidant, helping protect the cells from the harmful effects of "free radicals". Manganese, copper and zinc are important for the biochemical processes in which cartilage is produced.
CONNECTEN can be used preventatively, but is also highly recommended for acute and chronic joint pain, inflammation, weakness and degeneration of the tendons and connective tissue and for joint stiffness (spondylosis and arthritis).
Contains per tablet:

| | |
| --- | --- |
| Glucosamine sulfate | 350 mg |
| Chondroitin sulfate | 100 mg |
| Methylsulfonylmethane (MSM) | 50 mg |
| Vitamin C ascorbic acid | 50 mg |
| Vitamin E dl-alpha-tocopheryl acetate | 10 mg |
| Methionine | 10 mg |
| Hyaluronic acid | 5 mg |
| Zinc (Zn) | 5 mg |
| Manganese (Mn) | 2.5 mg |
| Copper (Cu) | 0.4 mg |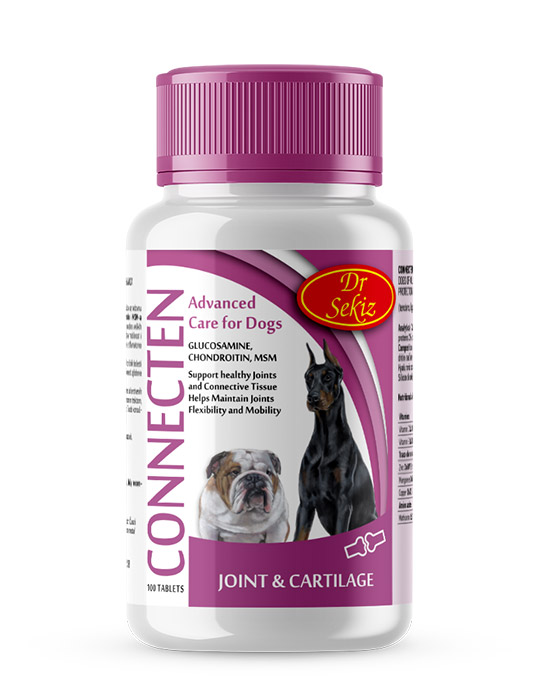 Produced in accordance with manufacturer's specification no. 0210-14. Veterinary export control number: RS-34-022. Quality controlled by the Scientific Veterinary Institute, Novi Sad.
Other ingredients: Brewers' yeast, cellulose, silicon dioxide, magnesium stearate.
This product is not for human consumption. Keep out of the reach of children.
Use: For best results use CONNECTEN for 4-6 weeks, and extend as necessary.
Regular daily recommended dose:
For dogs: ½ tablet per 10 kg of body weight, twice daily with meal.
Daily recommended intensive therapeutic dose (first two weeks):
For dogs: 1 tablet per 10 kg of body weight,  twice daily with meal.
1 CONNECTEN tablet = 1,000 mg
Keep in a dry dark place. Best used within 24 months (for best before date see package).
100 TABLETS, Net weight: 100 g