Biomix Plus
VITAMIN AND MINERAL NUTRITIONAL SUPPLEMENT FOR DOGS AND CATS
(improves skin tone, gives a better, shinier coat and strengthens the immune system)
BIOMIX Plus Ω3 is a new and improved formula which in addition to high-quality brewers's yeast, biotin and vitamin B complex contains dried sea algae (Schizochytrium limacinum) rich in OMEGA 3 (DHA) essential fatty acids, which are of great importance for health and the proper functioning of the body.
BIOMIX Plus Ω3  gives very good results in improving skin tone and the quality and appearance of the coat, making it softer, silkier and sleeker, and positively impacting pigmentation too. It also helps many organs function effectively, acts positively on the immune system and increases the body's resistance to disease and infection, both in dogs and cats.
BIOMIX Plus Ω3  is especially recommended for use in the period running up to shows in order to achieve the best possible impact at the show, whenever there are any changes in the coat or skin, and when the dog or cat is experiencing poor immunity or appetite.
Nutritional information: Proteins 20%, Fats 8%.
Contains per kg:

| | |
| --- | --- |
| Vitamin B1 thiamin hydrochloride | 400 mg |
| Vitamin B2 riboflavin | 1.200 mg |
| Vitamin B6 pyridoxin hydrochloride | 500 mg |
| Vitamin B12 cyanocobalamin | 2 mg |
| Calpan calcium d-pantothenate | 2.000 mg |
| Niacin Nicotinamide | 4.000 mg |
| Biotin H2 | 50 mg |
| Folic acid | 600 mg |
| Copper (Cu) | 100 mg |
| Zinc (Zn) | 1.500 mg |
| Manganese (Mn) | 500 mg |
| Schizochytrium limacinum – Omega 3 (DHA) | |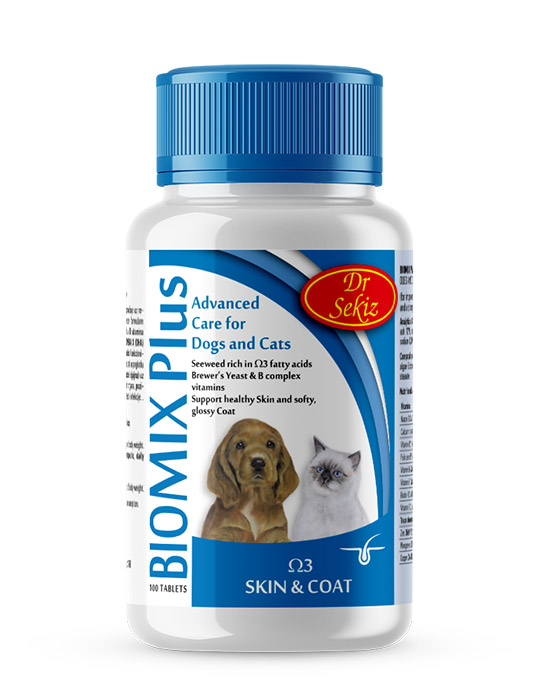 Produced in accordance with manufacturer's specification no. 0211-15. Veterinary export control number: RS-34-022. Quality controlled by the Scientific Veterinary Institute, Novi Sad.
Other ingredients: Brewers' yeast, cellulose, silicon dioxide, magnesium stearate.
This product is not for human consumption. Keep out of the reach of children.
Regular daily recommended dose:
For cats: ½ tablet.
For dogs: 1 tablet per 10 kg of body weight.
Daily recommended intensive therapeutic dose:
For cats: 1 tablet.
For dogs: 2 tablets per 10 kg of body weight.
1 BIOMIX Plus Ω3 tablet = 1,000 mg
Keep in a dry dark place. Best used within 24 months (for best before date see package).
100 TABLETS, Net weight: 100 g